Like everything, coronavirus is making sex more complex. The most common advice people are hearing during the coronavirus outbreak is to stay 6 feet apart. In an era of safe physical distancing, many are wondering if it's also possible to have safe sex.
Can I have Sex during coronavirus outbreak?
The infection continues to transmit through droplets from the nose and mouth, including the saliva of an infected person. It indicates that there is a significant risk of contracting COVID-19 through kissing and physical intimacy.
There's been zero research about what sexual acts can and cannot transmit the virus. One study in China did find traces of the virus in the semen of some patients who had recovered from COVID-19.
However, this doesn't necessarily mean that the virus is sexually transmitted. More research is needed to be sure one way or the other.
Want to have sex with someone you not living with?
If you plan to get playful with someone who does not live in the same home, the Harvard researchers have advised on taking some precautions for safety. Few of them are :
1. Taking a bath prior and post having sex
2. Restrict the number of sexual partners.
3. Kissing is a big no-no as it may lead to the exchange of saliva
4. While having sex do wear a mask
5. to avoid face-to-face contact with your partner, you have to be little creative with your sex positions. You can try using physical barriers and slabs.
6. Clean the area afterward with soap or disinfectant wipes to avoid transmission of germs
7. You can also use condoms and dental dams for added safety
How about Hook Up?
According to a survey done by condom manufacturer Skyn, Use of dating and hookup apps, like Tinder, is on the rise during the pandemic.
It doesnt harm to kill time by scrolling through profiles but think twice before you swipe right for an in-person meetup. Remember, just because someone looks healthy doesn't imply they don't have coronavirus, and they can still spread it, which makes hookups risky.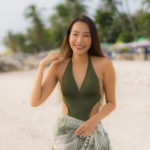 Andrea loves to write about the relationship. She has been writing for more than a decade now. Solo traveller and love to surf